Mary Mitchell O'Connor TD, Minister of State for Higher Education, joins RCSI, Accenture and Business to Arts for Official Unveiling
Mary Mitchell O'Connor TD, Minister of State for Higher Education, joined the leadership of RCSI and Accenture Ireland for the momentous ribbon cutting ceremony to launch the #WomenonWalls portrait commission at RCSI in partnership with Accenture.
Preceding the ribbon cutting, the Minister addressed the audience and recognised RCSI for its legacy of leadership in gender equality dating back to 1885 with the addition of Article 14 of the College's Second Supplemental Charter, granted by Queen Victoria. Article 14 states:
"And we do hereby, for us, our heirs and successors, grant, declare, and appoint that all provisions of the Charter, Bye-Laws, and Ordinances as to education, examination, and granting diplomas to Fellows or Licentiates shall extend to include women."
One of the eight women recognised today is Dr Mary Josephine Hannan, the first woman to both study and obtain her medical license at RCSI in 1890.
The Minister also announced she had secured Cabinet approval to seek university status for RCSI.
*Pictured above, Minister Mary Mitchell O'Connor TD poses with family members of Dean Mary Frances Crowley (pictured in portraiture), the founder of the Faculty of Nursing and Midwifery at RCSI.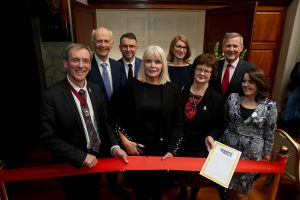 'This is Why We Commemorate' by Super Paua
Guests at the #WomenonWalls official unveiling were treated to a specially-commissioned spoken word performance entitled 'We Commemorate', written by Sian Ní Mhuirí and performed by Sian Ní Mhuirí with Aoife Dunne, actors with the Super Paua theatre company.
In collaboration with the RCSI Equality, Diversity and Inclusion Unit and RCSI's Heritage Collections team in the Library, Sian wrote 'We Commemorate' which brings to life the trail blazing achievements of the #WomenOnWalls subjects with reference to the difficult social and cultural environments through which they women adeptly navigated and refused to inhibit their ability to pursue their passions.
Six artists, carefully capturing the essence of their muse.
Such a commemoration is an act of poetic restitution
Such an action gently admits that female genius has
Been overlooked in many far-seeing institutions
Such a rich addition to the living history
Of medicine and science
An artistic, a generous, a colourful defiance
A simple re-configuring of gendered expectation.
– Excerpt from 'This is Why We Commemorate'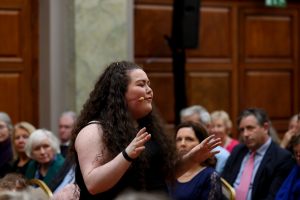 The enthralling performance incorporated a call and response style conversation with witty word play and honest recollections of the lives of the 8 women celebrated in portraiture: Dr Victoria Coffey, Dean Mary Frances Crowley, Dr Emily Winfred Dickson, Dr Margaret (Pearl) Dunlevy, Dr Mary Josephine Hannan, Sr Dr Maura Lynch, Dr Barbara Maive Stokes and Dr Mary Parker Somerville Strangman.
The performance began with Sian addressing the audience from the back of the hall from the minstrel gallery, where female guests once sat during the annual RCSI Charter Day dinner with the seats on the main floor of the Hall reserved for RCSI fellows and members only. The actors moved through the seated audience regaling their poem and culminated at the main stage and, together, in homage, called out the names of the women with their full professional titles.
Read the full script here.
Listen to the audio recording here.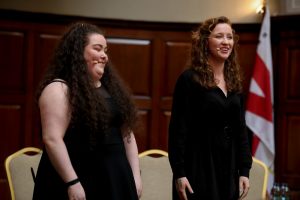 Subjects' families and friends travel from near and far to celebrate #WomenOnWalls
RCSI was delighted to welcome more than 100 family members, nearly half of all the attendees, to the official unveiling of the Women on Walls portraits on 5 March 2019. Engagement with family members of the women began in the summer of 2018 as the commissioned artists researched their subjects and, with the assistance of RCSI's Library Heritage Collections team, reached out to families to learn more about their subjects' personality, idiosyncrasies, home life and legacy.
Dr Victoria Coffey
Throughout the duration of the project, the primary contact for Dr Coffey has been Robert Coffey, her grandnephew and the Coffey family's de facto genealogist. He was joined at the launch by sister, Jeanne Coffey, as well as number of aunts and cousins. Professor Hilary Hoey, a cousin, also pursued a career in academia and paediatrics at Trinity College Dublin. Robert travelled from London, England to attend the festivities.
Dean Mary Frances Crowley
Dean Crowley, the eldest of six, was represented by her niece, Bernie McNamee and a number of nieces, nephews and grand nieces and nephews who affection knew her as 'Aunty Maureen'. Much of the family continues to reside in Cork, but also extends to Donegal, Dublin, Kildare and Wicklow, to name a few. Many thanks to Bernie and her relatives for their strong support of the project.
Dr (Emily) Winifred Dickson
It was a true family reunion of epic proportions for the descendants of Dr Dickson; cousins were reunited after more than 60 years. While some of Dickson's family remained in Ireland and the UK, another strand headed to New Zealand. We were thrilled to host Edith and Dr Carole Atmore (granddaughter and great granddaughter, respectively), who travelled from the north and south islands of New Zealand. At her PhD graduation ceremony later this year, Dr Atmore plans to wear Dr Dickson's graduation gown. We were delighted that this momentous occasion was an opportunity for cousins from Ireland, Scotland, England and New Zealand to reunite.
Dr Margaret (Pearl) Dunlevy
Almost 15 family members from Ireland and England gathered to celebrate Dr Dunlevy at the official unveiling. Family of Dr Dunlevy's included Dr Brian Dunlevy and a number of nieces and nephews who continue the Dunlevy family legacy of pursuing careers in healthcare. Our event even made the Donegal Democrat in recognition of the Dr Dunlevy's roots in Mount Charles, Co. Donegal.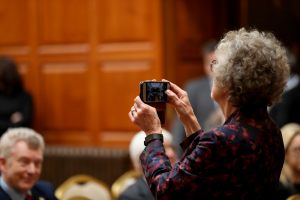 Dr Mary Josephine Hannan
Dr Hannan has quite an international career following gaining her license from RCSI. Her career took to her the United Kingdom, India, back to Ireland, but ultimately, she settled in Pretoria, South Africa. Despite sincere efforts, no family was able to join, but Dr Hannan was celebrated by all the RCSI community.
Sr Dr Maura Lynch
As one of nine children, Sr Dr Lynch's legacy greatly impacted her extended family and we were joined by almost fifteen family members on the day. Notably, her sister, Breda Rogers and brothers, Finbarr Lynch SJ, Kevin Lynch and Enda Lynch were all in attendance at the unveiling. We were also pleased to welcome a number of Medical Missionaries of Mary, including Sr Brigid Archbold, Sr Ursula Sharp and Sr Helen Spragg and Sr Isabelle Smyth. Many thanks for the Lynch family and sisters of the MMMs who have supported and celebrated this project.
Dr Barbara Maive Stokes
Dr Stokes' only surviving son, Andrew O'Hanlon, was joined by wife Bridgie and cousins for the official unveiling. Dr Stokes' only granddaughter, Jessica O'Hanlon, who is based in London, joined us for a special tour on Saturday, March 9th. Former colleagues and current executive management of St. Michael's House also joined in the celebrations and recognition of Dr Stokes' work to deliver care for children with disabilities in Ireland.
Dr Mary Somerville Parker Strangman
Irene Finn, the historian who wrote Dr Hannan's biography, as well as Joan Johnson, a Quaker Society historian, were able to join us for the event and celebrate Dr Strangman's portrait.
The support of the family members, friends and colleagues has been paramount to the success of this project. The fruition of these eight landmark portraits would not have been possible without them. The family members continue to support the project by participating in interviews for the Women on Walls podcast series and sharing the information with their extended family and friends.
Our heartfelt thanks to all those who joined us on the day, continue to express interest in visits to the Board Room and the podcast series.
If one of these women sounds familiar to you and you think you might be related, we would love to hear from you. Please email, equality@rcsi.ie.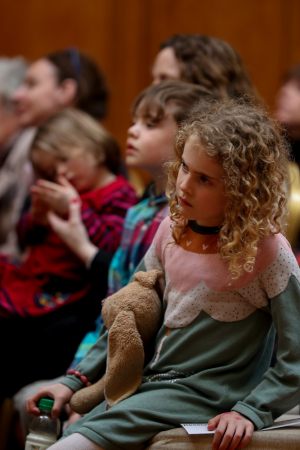 #WomenonWalls official unveiling landmark event for RCSI
Tuesday, 5 March 2019 – More than 200 family, friends and honoured guests gathered in the College Hall with great anticipation for the official unveiling of the #WomenonWalls portraits at RCSI.
This grand and historic portrait unveiling was the culmination of landmark project that began with a conversation which took place more than 18 months ago. Women on Walls at RCSI in partnership with Accenture recognises the pioneering achievements of a group of eight extraordinary women and aims to enhance the visibility of historical female leaders in healthcare to inspire future generations.
Over the course of the event proceedings, the guests enjoyed a variety of presentations. To begin, the audience was entertained with a powerful spoken word piece entitled 'This is Why We Commemorate' by Super Paua Theatre Company. Following the performance, leadership from the partner organisations, Dr Avril Hutch, Associate Director – Equality, Diversity and Inclusion, RCSI, Dr Michelle D. Cullen, Managing Director and Head of Inclusion & Diversity, Accenture Ireland and Mr Andrew Hetherington, Chief Executive, Business to Arts addressed those gathered and spoke of the incredible impact these women had and the importance of gender equality and nurturing inclusion for all (see links to speeches below).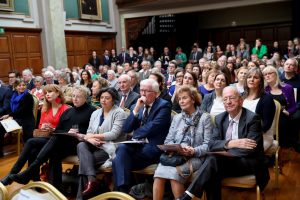 The event also included a special screening of the Women on Walls campaign video, which was followed by an 'in-conversation' style interview by Ms Róisín Ingle of the Irish Times with the commissioned artists.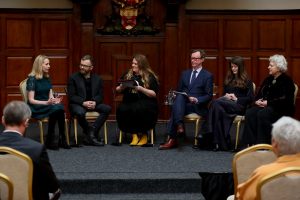 Finally, Minister of State for Higher Education Mary Mitchell O'Connor TD delivered a passionate address on the importance of gender equality in higher education in Ireland and praised the collaboration of the partner organisations in delivering this monumental portrait commission.
Following the ribbon cutting by Minister Mary Mitchell O'Connor TD and Mr Kenneth Mealy, President of RCSI, guests were welcomed in to the historic Board Room to view the paintings. Nearly half of the attendees were family members of the eight women, some travelling from as far away as New Zealand to attend the event. For many, it marked a family reunion of sorts and there was an especially convivial and celebratory atmosphere as long lost cousins reunited to admire the portraits and swap stories about the women until nearly 4 pm.
Throughout the year, RCSI will be offering a number of guided and self-guided tours of the portraits. You can find out more information by visiting women.rcsi.com.
Welcome Address by Dr Avril Hutch, Associate Director – Head of Equality, Diversity and Inclusion
RCSI Address by Prof Cathal Kelly, CEO and Registrar, RCSI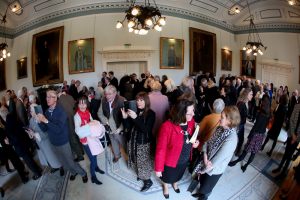 RCSI #Women on Walls Portrait Collection Viewings
RCSI is delighted to welcome members of the public to visit our new Women on Walls portrait exhibition.
If you are interested in attending a Women on Walls viewing, please register on Eventbrite
10.00 – 16.30 Saturday 9 March
16.00 – 20.00 Thursday 14 March
10.00 – 16.00 Monday 25 March (school groups – by appointment only)
12.00 – 15.00 Saturday 27 April
Each visitor will be allocated 45 minutes to visit the portraits/and/or attend the WoW tour.
Due to demand, tours are available on a reservation basis only. If you do not plan on attending, please kindly contact us so that someone else might have an opportunity to attend.
Please contact also feel free to us should you have any queries or have specific access requirements on the day.
For information please contact equality@rcsi.ie