Subjects' families and friends travel from near and far to celebrate #WomenOnWalls
5th March, 2019
RCSI was delighted to welcome more than 100 family members, nearly half of all the attendees, to the official unveiling of the Women on Walls portraits on 5 March 2019. Engagement with family members of the women began in the summer of 2018 as the commissioned artists researched their subjects and, with the assistance of RCSI's Library Heritage Collections team, reached out to families to learn more about their subjects' personality, idiosyncrasies, home life and legacy.
Dr Victoria Coffey
Throughout the duration of the project, the primary contact for Dr Coffey has been Robert Coffey, her grandnephew and the Coffey family's de facto genealogist. He was joined at the launch by sister, Jeanne Coffey, as well as number of aunts and cousins. Professor Hilary Hoey, a cousin, also pursued a career in academia and paediatrics at Trinity College Dublin. Robert travelled from London, England to attend the festivities.
Dean Mary Frances Crowley
Dean Crowley, the eldest of six, was represented by her niece, Bernie McNamee and a number of nieces, nephews and grand nieces and nephews who affection knew her as 'Aunty Maureen'. Much of the family continues to reside in Cork, but also extends to Donegal, Dublin, Kildare and Wicklow, to name a few. Many thanks to Bernie and her relatives for their strong support of the project.
Dr (Emily) Winifred Dickson
It was a true family reunion of epic proportions for the descendants of Dr Dickson; cousins were reunited after more than 60 years. While some of Dickson's family remained in Ireland and the UK, another strand headed to New Zealand. We were thrilled to host Edith and Dr Carole Atmore (granddaughter and great granddaughter, respectively), who travelled from the north and south islands of New Zealand. At her PhD graduation ceremony later this year, Dr Atmore plans to wear Dr Dickson's graduation gown. We were delighted that this momentous occasion was an opportunity for cousins from Ireland, Scotland, England and New Zealand to reunite.
Dr Margaret (Pearl) Dunlevy
Almost 15 family members from Ireland and England gathered to celebrate Dr Dunlevy at the official unveiling. Family of Dr Dunlevy's included Dr Brian Dunlevy and a number of nieces and nephews who continue the Dunlevy family legacy of pursuing careers in healthcare. Our event even made the Donegal Democrat in recognition of the Dr Dunlevy's roots in Mount Charles, Co. Donegal.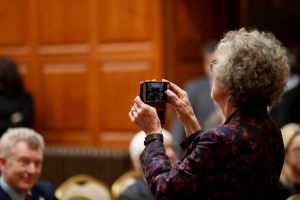 Dr Mary Josephine Hannan
Dr Hannan has quite an international career following gaining her license from RCSI. Her career took to her the United Kingdom, India, back to Ireland, but ultimately, she settled in Pretoria, South Africa. Despite sincere efforts, no family was able to join, but Dr Hannan was celebrated by all the RCSI community.
Sr Dr Maura Lynch
As one of nine children, Sr Dr Lynch's legacy greatly impacted her extended family and we were joined by almost fifteen family members on the day. Notably, her sister, Breda Rogers and brothers, Finbarr Lynch SJ, Kevin Lynch and Enda Lynch were all in attendance at the unveiling. We were also pleased to welcome a number of Medical Missionaries of Mary, including Sr Brigid Archbold, Sr Ursula Sharp and Sr Helen Spragg and Sr Isabelle Smyth. Many thanks for the Lynch family and sisters of the MMMs who have supported and celebrated this project.
Dr Barbara Maive Stokes
Dr Stokes' only surviving son, Andrew O'Hanlon, was joined by wife Bridgie and cousins for the official unveiling. Dr Stokes' only granddaughter, Jessica O'Hanlon, who is based in London, joined us for a special tour on Saturday, March 9th. Former colleagues and current executive management of St. Michael's House also joined in the celebrations and recognition of Dr Stokes' work to deliver care for children with disabilities in Ireland.
Dr Mary Somerville Parker Strangman
Irene Finn, the historian who wrote Dr Hannan's biography, as well as Joan Johnson, a Quaker Society historian, were able to join us for the event and celebrate Dr Strangman's portrait.
The support of the family members, friends and colleagues has been paramount to the success of this project. The fruition of these eight landmark portraits would not have been possible without them. The family members continue to support the project by participating in interviews for the Women on Walls podcast series and sharing the information with their extended family and friends.
Our heartfelt thanks to all those who joined us on the day, continue to express interest in visits to the Board Room and the podcast series.
If one of these women sounds familiar to you and you think you might be related, we would love to hear from you. Please email, equality@rcsi.ie.