#WomenonWalls official unveiling landmark event for RCSI
5th March, 2019
Tuesday, 5 March 2019 – More than 200 family, friends and honoured guests gathered in the College Hall with great anticipation for the official unveiling of the #WomenonWalls portraits at RCSI.
This grand and historic portrait unveiling was the culmination of landmark project that began with a conversation which took place more than 18 months ago. Women on Walls at RCSI in partnership with Accenture recognises the pioneering achievements of a group of eight extraordinary women and aims to enhance the visibility of historical female leaders in healthcare to inspire future generations.
Over the course of the event proceedings, the guests enjoyed a variety of presentations. To begin, the audience was entertained with a powerful spoken word piece entitled 'This is Why We Commemorate' by Super Paua Theatre Company. Following the performance, leadership from the partner organisations, Dr Avril Hutch, Associate Director – Equality, Diversity and Inclusion, RCSI, Dr Michelle D. Cullen, Managing Director and Head of Inclusion & Diversity, Accenture Ireland and Mr Andrew Hetherington, Chief Executive, Business to Arts addressed those gathered and spoke of the incredible impact these women had and the importance of gender equality and nurturing inclusion for all (see links to speeches below).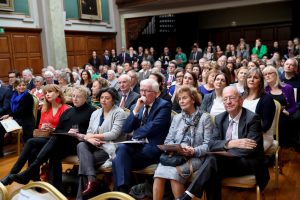 The event also included a special screening of the Women on Walls campaign video, which was followed by an 'in-conversation' style interview by Ms Róisín Ingle of the Irish Times with the commissioned artists.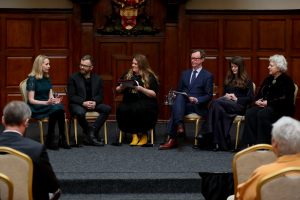 Finally, Minister of State for Higher Education Mary Mitchell O'Connor TD delivered a passionate address on the importance of gender equality in higher education in Ireland and praised the collaboration of the partner organisations in delivering this monumental portrait commission.
Following the ribbon cutting by Minister Mary Mitchell O'Connor TD and Mr Kenneth Mealy, President of RCSI, guests were welcomed in to the historic Board Room to view the paintings. Nearly half of the attendees were family members of the eight women, some travelling from as far away as New Zealand to attend the event. For many, it marked a family reunion of sorts and there was an especially convivial and celebratory atmosphere as long lost cousins reunited to admire the portraits and swap stories about the women until nearly 4 pm.
Throughout the year, RCSI will be offering a number of guided and self-guided tours of the portraits. You can find out more information by visiting women.rcsi.com.
Welcome Address by Dr Avril Hutch, Associate Director – Head of Equality, Diversity and Inclusion
RCSI Address by Prof Cathal Kelly, CEO and Registrar, RCSI